What's on the ballot? A MoCo student guide to the 2018 midterms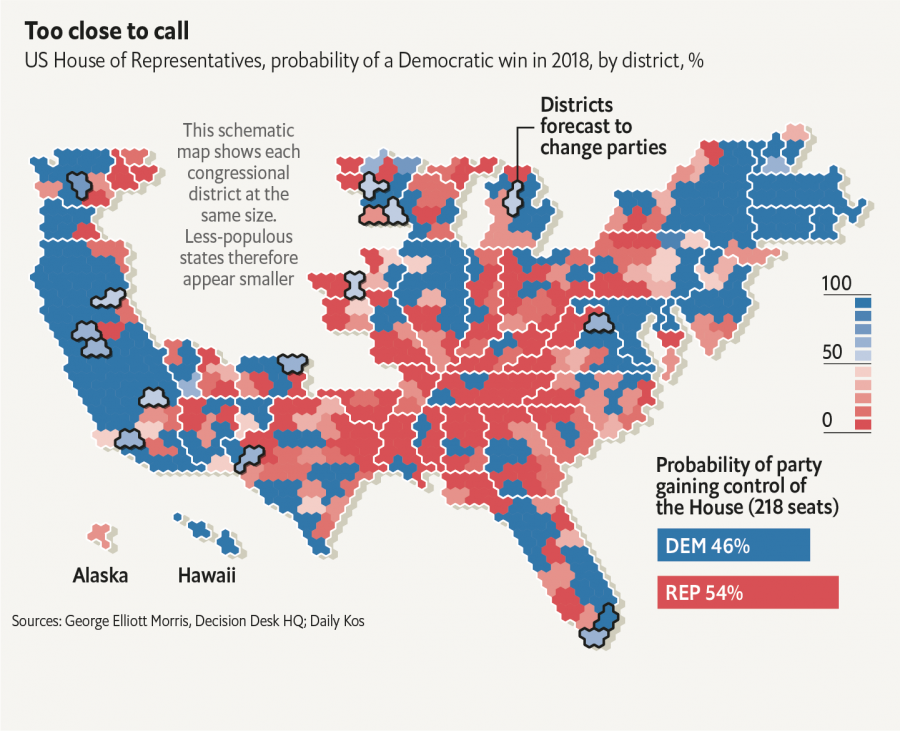 As election day rolls around, Springbrook students of age will be heading to the polls on November 6th. They will be faced with candidates running for over five levels of government, and five constitutional amendments. Three of these are specific to Montgomery County, and the other two are are statewide referendums. In this article, we'll dive into those amendments.
Maryland Question 1
Ballot language: "The amendment requires the Governor to include in the annual State Budget, as supplemental funding for prekindergarten through grade 12 in public schools, the revenues from video lottery operation licenses and any other commercial gaming dedicated to public education in an amount above the level of State funding for education in public schools provided by the Bridge to Excellence in Public Schools Act of 2002 (otherwise known as the Thornton legislation) in not less than the following amounts: $125 million in fiscal year 2020; $250 million in fiscal year 2021; $375 million in fiscal year 2022; and 100% of commercial gaming revenues dedicated to public education in fiscal year 2023 and each fiscal year thereafter. The amendment also requires the Governor to show in the annual budget how the revenues from video lottery operation licenses and other commercial gaming are being used in a manner that is in addition to the level of State funding for public education provided by the funding formulas established by the Bridge to Excellence in Public Schools Act. The State Constitution currently authorizes video lottery operation licenses for the primary purpose of raising money for public education."
In other words – the question asks if the revenue from Maryland casinos should be used strictly for education funding (teacher pay, school supplies, making school meals free) or continue to be put in a shared pot. It aims to create a "lockbox," as Governor Larry Hogan called it, for casino revenue, all of which is required to be used for education-related purposes. It seeks to expand on a bill passed in 2008 by then-Governor Martin O'Malley and the General Assembly. Governor O'Malley's bill sought to apply newly legalized gambling revenue towards school funding. The bill was passed by referendum in the same year. It only required the amount stipulated by the education funding formula to go towards education in Maryland. (The Frederick News-Post Editorial Board characterized the legislators as pulling a "fast one."). For example, in Fiscal Year 2018 (June 30-July 1), about 38% of the $1billion collected from casinos went to the education trust fund.
Where did the rest go? About 7% went to the horse racing industry, which feared losses as a result of casino gambling being legalized. Another 5.5% was used for local impact grants, and about 28% went back to casino operators as their income (minus their operating expenses). If this initiative is passed, the ball is in the legislator's court to figure out how this money will be equitably allocated.
The "lockbox" has become one of Governor Hogan's signature issues when it comes to education. His campaign even payed for an ad to advocate for the policy. Democrats have cried foul on this, claiming that they originally came up with the idea, and that Governor Hogan just followed along with them. (The Baltimore Sun and WAMU fact-checked this and agreed with the Democrats).
Proponents of the measure say that the merit of the bill passed in 2008 will be protected. It would do this by ensuring that casino revenue can't be used for things other than other than education funding. Opponents argue that if the state has funded schools to the extent required by the formula, it shouldn't have to find schools additionally. The Washington Post Editorial Board argued in an op-ed that the legislature should decide how to allocate the casino tax revenue, as lawmakers are "elected to grapple with" these hard issues.
Why should you care? If passed, this amendment would mean more funding, which the schools could use for purposes outlined above.
Tom Hucker, a County Councilmember (District 5), supported this amendment, saying that this would fulfill the promise made in 2008 to fund education with casino tax revenue.  
Maryland Question 2
Ballot language: "Authorizes the General Assembly to enact legislation to allow a qualified individual to register and vote at a precinct polling place on Election Day. The current law requires voter registration to close before Election Day."
Should we have same-day voter registration in Maryland?  This would mean that anyone who walks into the polls not registered can do so, even on the day of. The current law requires voters to register online or by mail 3 weeks before election day. If they participate in early voting, they can register election day.
Proponents of the bill argue that we should do everything possible increase voter turnout. Voting, they argue, is paramount to a working democracy. Opponents argue that registering to vote in advance is not burdensome, so the measure is wholly unnecessary.
Why should you care? If passed, this could mean that you could register on the same day you go vote.
The Blueprint asked Robin Ficker about the measure.  The 75-year-old defense attorney said that while he'd support the referendum, he would like to see Voter ID laws in Maryland. (The Voter ID laws have been proven in studies to suppress minorities' votes. Mr. Ficker rejected this.)  Council President Hans Riemer (at-large) said he supported the measure, as it could increase the number of registered voters who go vote. "If we can help people register more easily, then that results in more people choosing to vote. I think there are other things that we need to do as well, but I think this is definitely a no-brainer." Asked what other things should be done to help  increase voting, he said that he would like to see mail-in voting become instituted. He did not think that this would compromise security. Asked to respond to Mr. Ficker's request for Voter ID laws, he said, "Unfortunately, there are a lot of Republicans that try to make it harder to vote, and chip away at the right to vote…That's what Robin Ficker is talking about."
Montgomery County Question 1
Ballot Language: Amend section 104 of the County Charter to remove party central committees from the process from selecting the Redistricting Commission appointed by the Council every ten years to review the boundaries of Council districts, and providing that the Redistricting Commission must:
Be composed of 11 County residents who are registered voters;

Include at least one, but no more than four members of each political party who polled at least fifteen percent of the Council in the last preceding regular election; and

Include at least one member from each Council district.
This initiative concerns Montgomery County's redistricting commission. It would increase the number of people on the commission from 9 to 11. The commission is required to have at least one voter from each County Council district (there are five). The commission also needs to have at least one, but no more than four people from each political party. These people would be chosen by the Council.
Proponents say that this would make the redistricting process less partisan. Opponents favor the current arrangement of having four seats guaranteed.
Ficker said he would "hold [his] nose and vote for it", and that he would like to see the commission be completely nonpartisan. When asked how he would do this, one idea he threw out was to have voters choose the people on the commission, which he quickly took back, realizing that "voters would pick political people, because political people would be better known."
His next idea was to choose people from the jury roll at random to serve on the commission. Jokingly, he added that 12 year olds could do a better job at a fair redistricting process. In a later interview, he admitted, "I don't know how we're gonna come up with such a method [to make the process nonpartisan] but I don't think that Question 1 is the ideal way to do it." Tom Hucker agreed with the amendment. Hans Riemer supported the amendment as well, but called it more of a "symbolic statement" than anything. Mr. Riemer indicated that Mr. Ficker's solutions were overly simplistic, saying that the Commission performs "challenging work," and that not everybody could do it.
Why should you care? The Redistricting Commission decides who goes in which district. A change in who represents you might mean a significant shift in anything from education funding to tax rates.
Montgomery County Question 2
Amend Section 305 of the County Charter to require an affirmative vote of all current Council Members, rather than the specific nine votes currently required, to levy a tax that exceeds the annual limit on property tax revenue set in that section.
This amendment would change the process for raising property tax rates above the inflation rate. Currently, an affirmative vote of all 9 County Council members is required. The amendment would change this to all that are currently serving on the council. The only situation where this would make a palpable difference would be if the council changes the amount of members.  
Where the politicians stand: Robin Ficker said that he did not see the amendment as necessary. He accused the Council of trying to make it easier to raise taxes. (This likely wouldn't be the case; see above.) Tom Hucker disagreed, saying that the amendment would ensure the ability to raise taxes if necessary, even if there is a vacancy.
Why should you care? The amendment could make it so that a tax increase is passed with less people on the Council. You might see a problem with them passing a tax increase without having the 9 votes that are usually on the Council.
Montgomery County Question 3
Ballot Language: Amend Section 401 of the County Charter to permit each Councilmember to have one or more aides as non-merit employees rather than the confidential aide currently permitted.
The third Montgomery County Charter amendment would allow councilmembers to hire one aid outside of the merit system.  This could allow them to hire friends or family members. They currently are alloted four to five aids.
A bit of history: The merit system replaced the spoils system in 1883. The transformation was marked by the passage of the Pendleton Civil Service Act. You might have learned about this in your government class. In the past, jobs were awarded based on political favors. The legislation made sure that people could compete for government jobs on a fair basis. It prohibited discrimination based on political affiliation, religion, race, or national origin. The legislation only affected 10% of government jobs, but later presidents widened the scope.  
Proponents say this would give Councilmembers flexibility in deciding whom to hire, while opponents say that even aids should have Civil Service protection, and that this could lead to nepotism, wherein the politician favors family members or friends in the hiring. The county would have to pay these people's salaries.
Where the politicians stand: Mr. Ficker said that he supported the amendment. When asked whether he thought this would lead to nepotism, he said that he didn't see a problem with nepotism, as the Councilmember wants someone that is loyal and that the Councilmember knows well. He also said that he didn't see a problem with them influencing the Councilmember, as they had solicited the advice. Mr. Hucker agreed with the amendment. Mr. Riemer said that he supported the amendment, and that it wouldn't likely lead to nepotism, as "it looks terrible" and that unqualified people in their staff would hurt their reelection campaigns.
Why should you care? This affects the work of your Councilmember in that they might make different decisions on issues that affect you based on who advises them.
In general, this midterm election will likely prove to be the most consequential we've ever seen, given that it could change the makeup of the Congress, which is currently controlled by Republicans. If Democrats retake the House, President Trump would likely have greater difficulty passing legislation, some of which might directly affect you.