'March For Our Lives' movement enlists help of local students
Hang on for a minute...we're trying to find some more stories you might like.
Little over a month after a shooter opened fire and killed 18 students at Marjory Stoneman Douglas High School, in Parkland, Florida, the debate over gun reform has been propelled to the forefront of media attention. Unlike previous mass shootings, however, the survivors of the Parkland tragedy have been able to convert the incident into a nationwide call for gun control.
Stoneman Douglas Students like Emma Gonzalez, Cameron Kasky, Delaney Tarr, and more, championed the #NeverAgain movement and organized the historic March For Our Lives last saturday, which brought out an overwhelming 800,000 marchers in Washington, D.C., and thousands more across the nation and the world. The somewhat spontaneous activism of the Florida students mobilized scores of young people throughout the country, and their influence was felt right here at home.
Just weeks after the Parkland shooting, local students in Montgomery County organized and created a group called MoCo Students For Gun Control. The group organized the walkout and march from the White House to the Capitol, which included over 35 schools from Maryland, D.C., and Virginia. The walkout was on March 14, exactly a month after the Stoneman Douglas High School shooting, and had an estimated 4,000-5,000 students from DMV participate.
After the 17 minutes of silence, students made their way to the capitol building to hear from numerous speakers. Their rally at Capitol Hill featured guest speakers like Rep. John Lewis (D-GA), Senate Minority leader Chuck Schumer (D-NY), and even a controversial surprise visit from Senator Bernie Sanders (D-VT). Student speakers at the rally also included Montgomery County SMOB Matthew Post, Nate Tinbite of John F. Kennedy High School, Brenna Levitan of Montgomery Blair High school, and Springbrook sophomore Michael Solomon, who is a Co-President of the group.
"In an ideal world, the 20 first-graders and kindergarteners who died in Sandy Hook, would be in middle school today. In an ideal world, the 58 concert-goers who were gunned down in Las Vegas would've gone home and returned to be with their families. In an ideal world, the 17 victims from Stoneman Douglas would probably be eating lunch at school right now, and the only thing they'd be worrying about was a test for next period," Solomon shouted at the crowd.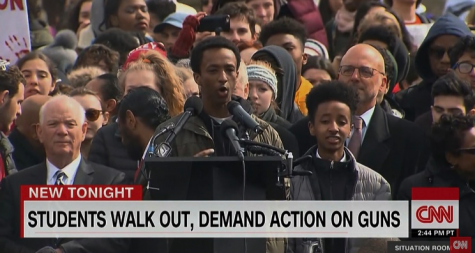 After the rally, which was broadcast on numerous national media stations and channels, the four student speakers from Montgomery County saw their speeches go viral on social media, which lead to the national organizers at the March for Our Lives to extend them an invitation on stage for the event. Along with the student activists from Stoneman Douglas, as well as students from across the country, Levitan, Solomon, and Tinbite stood next to Matt Post as he delivered a speech to the daunting crowd.
Nate Tinbite, describes participating in a March for Gun Control with Parkland shooting survivors as "a touching and emotional experience, to see how strong these students are to overcome the harshest situations and to turn them into powerful movements". MoCo for Gun Control representatives say that they are now in contact with the main organizers from the March for our lives, and plan to work with them on future initiatives.
According to Michael Solomon, they aren't done yet. "MoCo for Gun Control is already back to planning future events and initiatives, and while we haven't announced anything yet, I can tell you that people are going to see some town halls, with both local and federal elected officials, and we also have a few projects we're working on to help increase voter registration in teens and young people." These students are doing a lot to contribute to the fight against gun control.
As the fight over gun safety rages, on, it's safe to assume that this country is now at the tipping point of this debate. Student organizers have been able to bring about mass mobilization like we've never seen before, and it doesn't seem like they have any intent of slowing down.