Former MCPS Employee Charged with Sexual Assault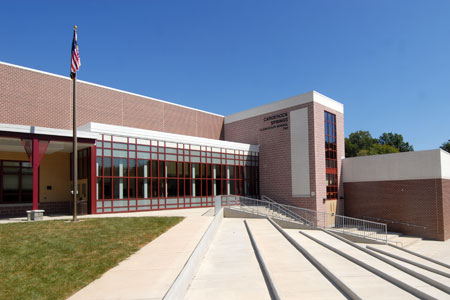 Roy A. Simmons III, 41, a Gaithersburg resident and former Montgomery County Public Schools employee, was recently arrested after being charged with sexual assault for inappropriately touching a 10 year old student during an after-school event at Carderock Springs Elementary School in November of 2016. The event was sponsored by Kid Adventures, a company that Simmons worked for at the time as a group leader and a part time paraeducator.
According to police reports, the girl spoke to officers regarding the situation in May. She claimed that Simmons hugged her from behind and rubbed her chest with his hands for about five seconds while she was in the staff room making popcorn. The girl said she felt uncomfortable and told authorities that Simmons apologized to her the following day. Upon learning of the incident, MCPS promptly fired Simmons in May.
Roy Simmons is currently facing charges for second-degree assault and fourth-degree sex offence. On Tuesday, Montgomery County Police received a warrant for Simmons' arrest, and by that following Thursday, on October 5, the suspect turned himself in.
Simmons was released on Friday, October 6, with a $15,000 bail, contingent on him agreeing that he wouldn't have any contact with the now 11 year old girl, or any other minors, according to court records.
Police are still investigating whether this girl was the first or only victim of Simmon's. Parents have been urged by school staff and authorities to speak to their children if they have had any contact with Simmons, and notify the police if they feel that their child has been victimised by this man. They have asked for anyone with concerns regarding Simmons or the incident to call them at 240-773-5400.
Sexual assault cases are becoming increasingly prevalent within Montgomery County Public Schools. At Montgomery Blair High School, 27-year-old  Cory Boatman, who was a substitute teacher and assistant football coach, was recently arrested after sexually abusing a 16- year-old female student. John Vigna, a 50-year-old former third grade teacher at Cloverly Elementary School was sentenced to 48 years for the sexual abuse and sexual offense of multiple students. A security leader at Rockville High School is also facing charges after having sexual relations with a student.
Montgomery County hasn't exactly been proactive in trying to combat this issue, and the community is becoming extremely frustrated. Jeff Herman, the lawyer for the family of one of John Vigna's victims, announced a lawsuit over the summer, which will be a federal Title IX suit.
"One of the things we're going to be looking at in this case is … how far this spreads out — why there is a pattern here in Montgomery County" of letting "potentially unsafe" teachers in the classroom with children, Herman said at the press conference.
There are, however, a variety of local programs that provide assistance for victims of sexual abuse and help spread awareness about the issue. Montgomery County's Victim Assistance and Sexual Assault Program is one of these, which is not only limited to sex offense cases, but also helps victims of hate crimes, robbery, vandalism, and more.
Springbrook High School has had no reported cases of sexual assault involving staff and students.