Meet BROCKHAMPTON, the new All-American Boyband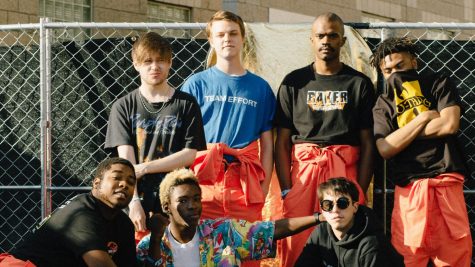 Self-proclaimed boy-band BROCKHAMPTON has finally concluded their 3-album series, titled SATURATION. The Texas based hip-hop group has now relocated to California and will start their highly anticipated "Love Your Parents Tour" in the near future. In less than one year, the group was able to produce three high-end albums, complete two nation-wide tours, create a full-blown documentary film, and make an astounding first impression in the hostile music industry.
The group first met through an online Kanye West forum formerly known as KanyeLive (now Kanye To The), where founders Kaylen Jones and Kevin Abstract inquired if anyone on the forum was interested in forming a band. The forum post garnered over 30 responses and thus, AliveSinceForever was formed. The band released its debut EP in 2013, but soon after, the group disbanded and were rebranded as BROCKHAMPTON. In an interview with The Fader, Abstract, the mastermind behind the group, gave some insight as to what sparked the sudden change. "I kind of felt I didn't have as much power as I wanted, so, I'm like, I'm just gonna make my own thing and I'm gonna build it how I want to. I'm gonna reach out to people from ASF to see if they want to come and join me," he said.
BROCKHAMPTON is unique on a number of fronts. Their musical style, which has been called a "unique hybrid of alternative pop-rap", combines bombastic synths, R&B reminiscent tunes, and rattling drum beats. The lyrical prowess in the verses of each of BROCKHAMPTON's members is ever-so-present in all three of the SATURATION albums, and especially in the third installation, which was released in December. The band also prides itself on being LGBT inclusive, as many of the members are in fact gay. For Kevin Abstract, this is a major part of the group's identity as a whole. Abstract often incorporates this into his verses: "Why you always rap about being gay? Cause not enough Ni**as rap and be gay / Where I come from, ni**as get get called 'fa**ot' and killed", he said on JUNKY.
The group as a whole, places a heavy emphasis on how rather than being a collective, BROCKHAMPTON identifies as an American boy band. While there are only 7 vocalists, the band considers its producers, video directors, and even creative minds as apart of the band, bringing brings the band's total up to 15 members. When asked about this in an MTV interview, Abstract said, "Because everyone is apart of the process. We're like Apple, you know?".
Parallels can be drawn between Brockhampton and the rap collectives like A$AP Mob or Odd Future when it comes to numbers and versatility, but that is where the similarities end. The band incorporates a variety of sounds and styles into all of their work, so much so that, it is still extremely difficult to categorize their music into a concrete genre. Even after three whole albums.. This assortment of style can be largely attributed to the diversity of the band. Each member can be seen contributing to different aspects of each song, all while maintaining their own unique persona. While Kevin Abstract, Ameer Vann, and Matt Champion contribute largely to the lyrical aspects of the songs, you can still expect to see band member Bearface covering the melodic choruses and hooks.
In addition to the wide array of artists in the band, the BROCKHAMPTON also has a deeply rooted motivation to be as different and innovative as possible. In the same MTV interview, Abstract expands on this, saying "It's cause no one's done it before, and we want to do things that people have never done. We want to innovate and change everything."
SATURATION III closed out december as the third album that the band dropped in 2017. While all 3 albums break the mold of the traditional "rap" album, each new installment of the SATURATION trilogy expands on the first. The production never falls short, and the band never disappoints on a thematic level. Many songs in the SATURATION trilogy address underrepresented themes and audiences. The group has also taken it upon themselves to discuss social issues in their lyrics as well. Some of the issues that the band openly talks about include  the hostility against LGBT artists in the rap game, racism, police brutality, and even rape culture.
BROCKHAMPTON is pioneering a new genre of rap that can be used as an outlet for a plethora of new audiences, and as they are on the verge of spilling over into the mainstream rap scene, I'm interested to see in how they will use their newfound influence, and whether or not they will stay true to their original goals in the face of a growing audience.