MCPS to name school after Civil Rights leader Bayard Rustin
Bayard Rustin Elementary School will be the newest addition to Montgomery County's ever-growing school system (rankings now place MCPS as the 18th largest school district in the country), and will be the first MCPS school to be named after an openly LGBTQIA+ individual. The decision passed in a 6-2 vote by the Board of Education, which was cemented by passionate testimonies at last Thursday's public hearing.
Student Member of the Board Matthew Post was one of the six who voted in favor of the decision at the April 12th hearing, and expressed excitement for the new school. The two board members who voted against the decision – Mike Durso and Jeanette Dixon – did so because the Bayard Rustin "wasn't the name selected by the community committee".
"This will be the first elementary school in MCPS named for an openly gay person," he said. "Representation matters. I can't imagine how impactful this will be for our young, isolated LGBTQIA+ kids. It shows that our community, county, and society values people of different sexual orientations."
In an era during which society has deemed itself as largely progressive, historical figures who were openly LGBTQIA+ have often been ignored in the history books. Bayard Rustin, a schoolteacher and activist from Pennsylvania, was also one of these figures, who has also had his monumental contributions to the Civil Rights movement overlooked.
Raised in a half-Quaker, half-Episcopal home to devout activist parents, Rustin grew up in an environment that almost cemented his fate in the fight for civil rights. As a teenager, he campaigned against discriminatory Jim Crow laws in his hometown of West Chester, before leaving home to study at Wilberforce University, an HBCU in Ohio that was operated by the AME (African Methodist Episcopal) Church. He was expelled from the school in 1936 after organizing multiple student strikes, and later attended Cheyney University of Pennsylvania.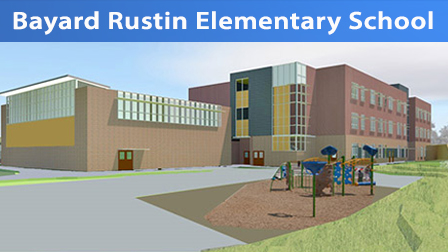 After concluding his academic endeavors, Bayard Rustin began to heavily involve himself in the Civil Rights movement. In 1947, Rustin organized the Journey of Reconciliation, one of the earliest Freedom Rides, along with minister and civil rights leader George Houser. In 1956, Bayard Rustin became a trusted adviser to Dr. Martin Luther King, which led to his involvement in organizing the Montgomery Bus Boycotts and the March on Washington of 1963. As the intensity of the Civil Rights movement began to fade, Rustin went into the field of politics, and became an adviser to the Mississippi Freedom Democratic Party.
As he reached the end of his career, Rustin saw a transition into gay rights activism, for the first time in his life. He testified on New York State's Gay Rights bill, which was when he made the controversial statement, "The New Niggers Are Gays". Rustin was alluding to the new wave of hate crimes and discrimination that oppressed the gay community, and comparing their trials to those of African Americans. He died a year later in Manhattan, New York.
Just years before his passing, Rustin reflected on the methods and values that defined his career as an activist in one of his personal journals:
"The principal factors which influenced my life are 1) nonviolent tactics; 2) constitutional means; 3) democratic procedures; 4) respect for human personality; 5) a belief that all people are one," he wrote.
The new school to be named after him is set to open in Rockville this September, and will be located on West Edmonston Drive, just down the road from the Rockville Pike shopping center.