From Law School to P. Diddy to Springbrook: Jason Bunyan's Journey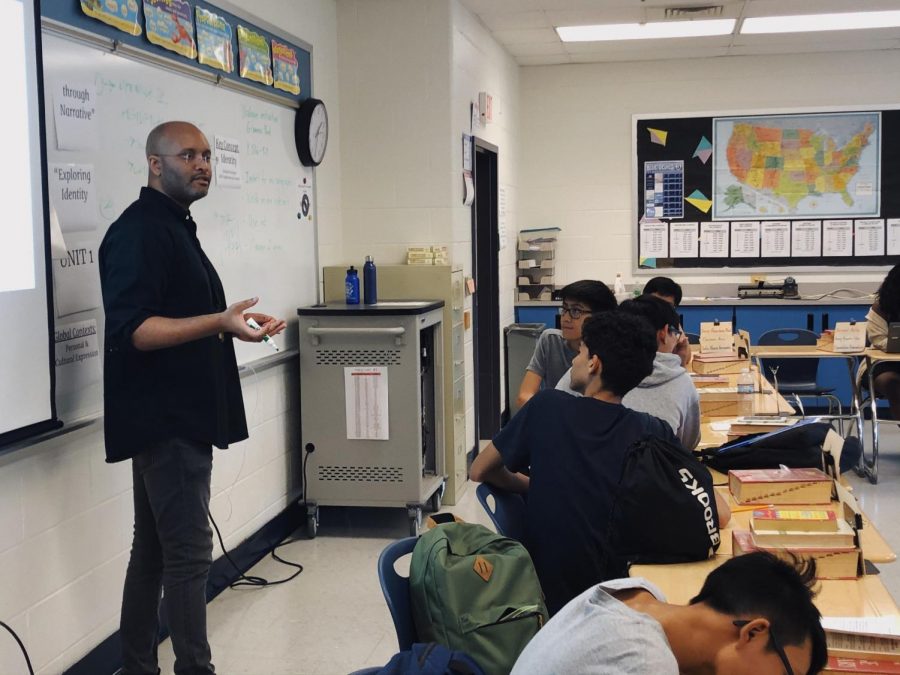 Out of all the classes offered at Springbrook, there are perhaps few as unique as IB Film, which encompasses a wide range of skills and subjects. Luckily, the course is taught by someone with extensive experience in the film and entertainment industry: Jason Bunyan. Although Bunyan became a film teacher only recently, his passions have always aligned with what he now teaches—he has always loved films. Watching big blockbusters like the Star Wars saga as a child helped foster his passion.
"I remember seeing Return of the Jedi in a theater, back when it was Wheaton plaza, way before it was Westfield," he said.
Growing up in Montgomery County, and as a student at Washington D.C.'s St. Alban's School, films were a big part of Bunyan's life. But that passion stemmed from a love of storytelling and writing.
"When I was a kid, it was always about trying to write a book or a short story. I always kind of skewed that way," Bunyan said. 
Even during his years at Dartmouth College, where he majored in Film Studies and English, Bunyan was still writing and developing scripts on the side.
Like many who aspire to have artistic careers, Bunyan had a big decision to make after finishing at Dartmouth: Should he go on pursuing film, or should he try to pursue something more practical? His peers convinced him to go to law school. However, Bunyan decided to focus his legal studies in topics related to what he was actually interested in—art and media. Throughout law school at Catholic University, Bunyan specialized in subjects like telecom cyber law and intellectual property. After graduating from Catholic University, Bunyan realized that he didn't want to practice law, so moved to New York City to start a career in the film industry. 
After an internship at the Tribeca Film Festival, Bunyan was hired by Bad Boy Worldwide Entertainment Group, a record label and entertainment company owned by rapper Sean Combs, better known as P. Diddy. Bunyan handled jobs like script development and editing for clients including MTV.
But when the economic recession hit in 2008, New York became a hard place to work. Bunyan decided to create a social media group called Independent Festival Networks, or IFN, an  "international network for film festival founders, professionals, entrants, and volunteers." Over time, Bunyan expanded his company and grew a larger following on social media. Today, IFN holds over 14,000 followers on Twitter. 
While working at IFN, Bunyan was also doing social media marketing for film production companies. But things didn't exactly go to plan.
"At a certain point, the market was getting pretty tough. I thought about it, and I thought 'I had a pretty good run up here,' but it's really very hard. New York can be pretty tough," Bunyan said.
He ultimately decided to move back to his hometown, Montgomery County, and try something new. Following in the footsteps of some of his relatives, Bunyan started out in education working as an elementary level media assistant, then as a middle school para-educator at Loiederman School for the Arts until the winter of 2018, while working for a master's degree at the same time. In order to fulfill one of the requirements for his master's program, Bunyan taught English at Blake High School with a mentor teacher. By the fall of 2018, he secured a position as an IB Film 1 and 2 teacher at Springbrook High School. 
As a film teacher, Bunyan is grateful to be able to pass on his passion to younger generations. He wants his students to develop real film skills in his class by learning hands-on, not only reading from a textbook.
"It's important for students to have solid information that they can use, not only from an intellectual place but something that comes from a practical place as well," he said.