Aryss Lindsey commits to Youngstown State University
Springbrook High School's Aryss Lindsey has committed to play lacrosse at Youngstown State University in Ohio. Lindsey, who is a 3-season athlete at Springbrook, also plays varsity soccer and basketball. Her commitment was announced on the Springbrook Athletics Twitter account on September 16. 
Lindsey moved to Colesville from Howard County, Maryland at the start of the 2018-2019 school year, previously attending Hammond High School. She also thrived during her time at Hammond, and was a top goal scorer on her old lacrosse team. Lindsey says that having to leave her community and her school took a significant toll on her emotionally. 
"Finding out I was moving from Hammond to Springbrook was the worst news I've ever received in my life. I was so upset to be leaving my friends and the school I had been going to for 2 years. I was really depressed during the weeks leading up to it," she said. 
After eventually getting back into the groove of things, Lindsey was able to reignite her passion for sports as a 3-season athlete. 
During her recruitment process, Lindsey recalls having serious doubts about committing to play at the collegiate level for another four years, but eventually decided that becoming a Youngstown Penguin would be best for her in the long run.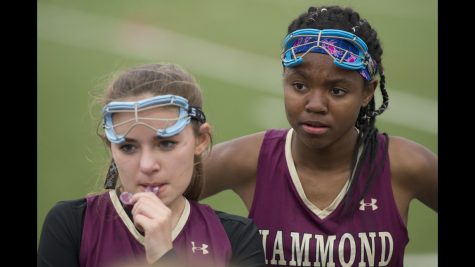 Part of the immense burden of being a year-round athlete is having to constantly stay in shape. During the summer (the only season she isn't playing for a Springbrook team), Aryss plays club lacrosse. Because of this, " I have no time to be lazy, I always have to find a way to stay active if it's walking my dog or playing lacrosse with my sister," she said.
Aryss is not yet sure if she wants to play lacrosse professionally or transition into recreational play after college. As a sports management major, she will definitely continue her future and career in sports.