MoCo For Change takes on MCPS segregation
The growing student group is essentially responsible for forcing what has become one of the largest and most controversial debates in the county.
Montgomery County Students for Change, more commonly referred to as "MoCo For Change", is the well-known student advocacy group that was responsible for organizing the March 14th anti-gun violence walkouts of both 2018 and 2019, and has gone on to coordinate countywide voter registration drives, town halls, and other civic events while expanding its platform to a vast network of students at home. The organization now has over 12 chapters in various high schools throughout Montgomery County.
In July of 2018, MoCo For Change announced their plans to pursue a "broader, social-justice oriented platform", making room for issues like racial justice, immigration, and civic engagement, while remaining a powerful force in the realm of gun-violence prevention advocacy. In recent months, the group has shifted its focus from larger, national issues such as gun reform and its relationship with the March For Our Lives movement, to local politics, including school segregation in MCPS.
Earlier this year, on January 9th, the Montgomery County Board of Education passed SMOB Ananya Tadikonda's resolution to hire an outside consultant to conduct a countywide boundary study in a 7-1. The  controversial resolution was amplified by months of continuous student testimony on the importance of school diversity and school integration, stemming from former SMOB Matt Post's unsuccessful attempt to emphasize diverse schools in the Board of Education's Policy FAA – a feat that Tadikonda, with support from this year's newly sworn-in members, was later able to pull off back in September.
This month, MCPS tapped an independent moderator to host four community feedback forums in different parts of the county, where residents provided input on the study, which "calls on the superintendent of schools to engage, using an external consultant, in an in-depth review and analysis of how existing [MCPS] school and cluster boundaries support or impede the effective use of school facilities." The handouts distributed at the meetings only explicitly mentioned school facility utilization, but the study is also slated to focus on school diversity and the socio-economic segregation caused by current attendance boundaries.
The first of these meetings was held at Quince Orchard high school on April 4th, where about 65-75 residents expressed their concerns regarding the study, but after a Bethesda Beat article shed light on many of the racist attitudes expressed by parents in reference to low-income and minority students, MoCo For Change began organizing for the following April 10th meeting at Kennedy High School.
The article describing the events from the QOHS meeting quickly went viral on Twitter, garnering commentary from national figures, including Anand Giridharadas, an editor-at-large of TIME, and Sherrilyn Ifill, the President and Director-Counsel of the NAACP Legal Defense fund, who posted "School segregation and entitlement courtesy of Montgomery County, MD," describing the county as "a liberal bastion in a blue state".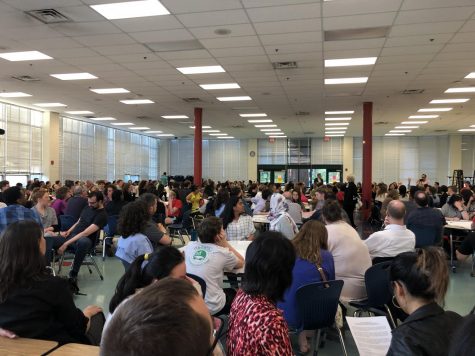 "We had been expecting a lot of backlash towards the idea of diversifying our schools through a potential boundary change and were already planning our next steps in terms of these feedback forums," said Springbrook junior Michael Solomon, who is a founding member and Co-President of the organization, "but after we all saw that article, we just got fired up and knew we had to make our presence felt at the following meetings,".
And that's exactly what they did – estimates placed attendance at the Kennedy HS meeting at approximately 115 people, with a heavy student presence. The polarizing conversations continued, and more residents, parents, and students attended the meetings that followed. Tuesday's meeting at Walter Johnson High School in Bethesda was by far the largest, bringing out over 300 participants. Although many in the Walter Johnson cluster community had been organizing to show up to the meeting in opposition to the study and school integration, attendance was considerably split between student advocates and their adult allies and the group of residents (mostly upcounty parents) who opposed the effort. The group credits social media as the most effective tool for getting students out to events like these.
As diversity and the socioeconomic segregation of schools in MCPS has quickly become the central focus of conversations surrounding the study, much of the skepticism has come from parents in affluent, mostly white communities who have labeled the integration efforts as "social engineering" and fear the potential of their children being "shipped off" to other, lower-income communities through busing.
However, MoCo For Change leaders have repeatedly emphasized that they are no calling for busing, which was a de-segregation tactic used by school systems after the U.S. Supreme Court's Brown vs. Board of Education decision in 1954. The student activists have pointed to data that shows a substantial number of school clusters with significant socioeconomic disparities that are actually adjacent to each other or in relatively close proximity, asserting "We don't need busing. Nor are we asking for it."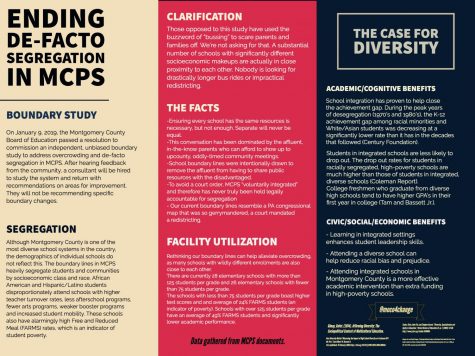 MCPS won't be having another community feedback meeting on the upcoming study until this November, but the Montgomery County Students For Change plan on organizing email and letter-writing campaigns.
Solomon considers the boundary study to be a top-priority for the growing organization. "What I've found," he said, "is that misinformation has been the driving force for the people who really don't want this study to examine socioeconomic segregation. We're going to spend the following months working on awareness efforts and amplifying this issue so that everyone in our country knows what's going on."
"We've pulled off two walkouts with thousands of kids in attendance, and they made headlines and got so many new students engaged. We've been on the front-lines in terms of youth gun-violence prevention advocacy, but I really believe that this is the greatest opportunity for us to achieve real, tangible policy change," he told The Blueprint, "this could impact hundreds of thousands of students' lives for the better, for decades to come."