Two athletes commit to play football on full scholarships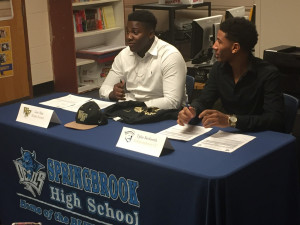 February 1 is the official National Signing Day in the U.S. for high schoolers across the country to commit to play collegiate sports.
Two Blue Devils, football players Loic Nya and Tyler Beckwith signed to play collegiate football after school in the career center.
Nya started playing football just two years ago. He signed to play Division 1 football at Wake Forest University as an offensive lineman. He received a full scholarship from the university.
Beckwith, who plays wide receiver, signed to play for Independence Community College in Kansas on a full scholarship. Many Independence graduates have gone on to play for the National Football League (NFL).
"I'm excited to be able to pursue my dream at the collegiate level … Nothing will be easy or handed to me, but I'm ready for whatever comes my way," Beckwith said.