Blue Devils get revenge to advance to Section 2 finals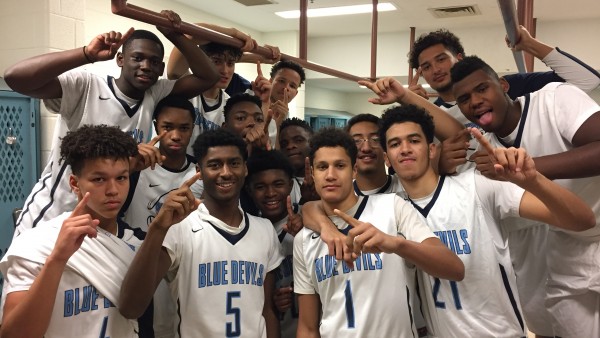 Hang on for a minute...we're trying to find some more stories you might like.
Springbrook had their second playoff game last night against Sherwood. Having lost to Sherwood in the regular season, Springbrook was seeded below the Warriors, and predicted to lose the game.
Sherwood came out running; quickly leading and maintaining a 4-0 lead for two solid minutes. This proved to be their only lead in the game, because after Matthew Balanc put up Springbrooks first points on the scoreboard, the blue devils were fired up.
Causing four turnovers in a row, Springbrook really capitalized to tie the game with Balanc's monster dunks and eventually took the lead with Andres Escobar's two three-pointers.
Springbrook came out of the the second half looking shaky again. Coach Darnell Myers' booming voice was heard across the gym and really rallied the boys to play harder. By the end of the second quarter, Sherwood was scrambling to find possession and frantically called a timeout with 1:56 minutes left to go on the clock being down 14-30. This 16-point lead was the largest of the night.
Third quarter was played hard by both teams. The referees called many controversial fouls in Sherwood's favor. The Warriors were still not able to capitalize on offensive opportunities. Our rebounds and organized defense shut them down, ending the third quarter 53- 40.
Fourth quarter was full of action. Balanc destroyed the rim with another dunk that silenced the obnoxious Sherwood fans and Andres hits two more threes while Sherwood airballed two in a row. Andres hit seven three-pointers in the game with the most points scored (31) followed by Matthew (17) winning the game 76-64.
This win was really big for Springbrook and the players. "We played well, and very excited about the win, and it gives us momentum to move on and play Paint Branch next." says player Joe Bass.
Springbrook Will advance in the playoffs, and will be playing Paint Branch tomorrow. Springbrook has lost to the Panthers twice in the regular season, but hopefully this recent win will boost the Blue Devils to another victory.