The revised "travel" ban is halted by federal judges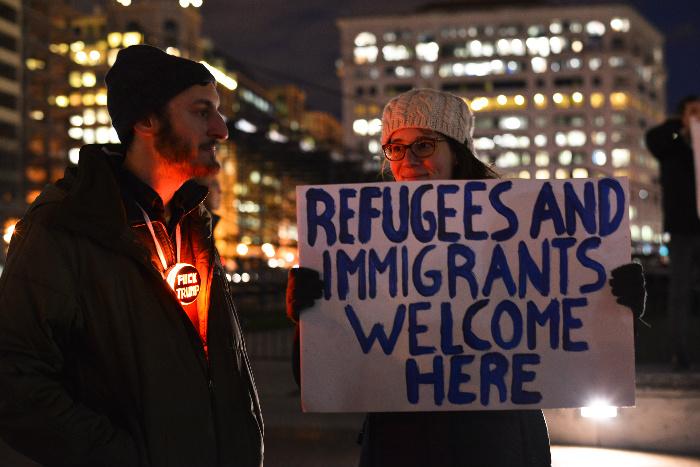 by Renee Osei, Staff Writer
March 20, 2017
Since being officially inaugurated January 20 2017, Trump has been very busy as the new president. On January 27, Trump signed his fifth executive order, 'Protecting the Nation from Foreign Terrorist Entry into the United States', also known as the Travel Ban but after discovering what the order actually did, it has been quickly dubbed as the 'Muslim Ban'.
The executive order banned seven countries: Iran, Iraq, Libya, Somalia, Sudan, Syria and Yemen were prevented from entering the United States and their visas were also suspended for 90 days.This included people with green cards, who were detained at airports causing much uproar.
Six weeks after this initial executive order, Trump signed a new 'revised' version. The goal of the order is still the same; to keep possible terrorists out of the U.S. and keep the country safe.
In this revised executive order, Iraq has been removed from the list of countries that are prohibited from coming into the United States and it also exempts citizens from the now six countries that are permanent residents from the United States.
The reason why Iraq was removed from the list of banned countries is because of their involvement in fighting ISIS. Officials still claim that the executive order is not a Muslim Ban and it is just a way of protecting the United States. Iraq is attempting to stop ISIS as well, they are considered allies of the United States.
Recently, federal judges all over the United States have been putting temporary blocks on the Travel Ban. This first began in Hawaii, when a federal judge issued a restraining order on the ban, deeming it unconstitutional. This action was followed by a federal judge in Maryland doing the same.
According to a statement released by the Department of Justice themselves; The Department of Justice do not agree with the ruling and are still in support of the Travel Ban. The Department of Justice claims that the executive order is within the president's lawful authority and will continue to be support of the order.
The revised executive order was supposed to take effect March 16 2017, but federal judge, Derrick Watson halted Trump's attempt at this revised executive order.