Tinker advocates freedom of expression at assembly
Mary Beth Tinker spoke to the Advanced Placement U.S. Government and Politics and National, State, and Local Government classes during a fourth period assembly on Tuesday.
The free speech activist presented a slideshow of historical examples of Americans expressing free speech and protesting for what they believe in. The Children's Crusade of Birmingham, Alabama and the Mississippi Freedom Summer were major teaching points as Tinker emphasized the bravery of the individuals that participated in the Civil Rights Movement.
In December 1965, Tinker, her four siblings, and their friend Christopher Eckhardt wore black armbands to school to protest the U.S. involvement in the Vietnam War. Once the school board became aware of their plan, the administration created a policy that forbid wearing armbands. The five students were suspended for refusing to take off their armbands at school.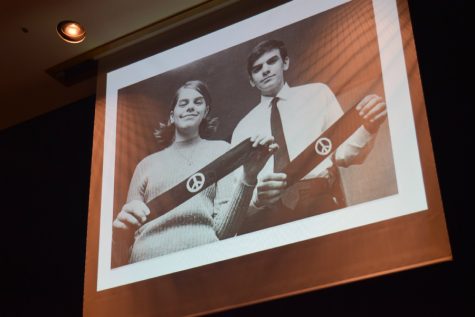 The Tinker family initiated the historic legal battle, Tinker vs. Des Moines (1969), against Des Moines Independent Community School District in Iowa for violating the students' First Amendment rights. Tinker won in the Supreme Court in a 7-2 landmark decision, stating that students are "persons" under the Constitution and don't "shed" their rights at school.
Tinker's parents were also supporters of the Civil Rights Movement and free speech. Tinker went on explain how their actions inspired her to use her voice as a young girl.
"Young people have great ideas and a lot of energy and creativity, and also a sense of fairness. Our country and our world really needs that, especially now. I want to encourage young people to stand up and speak up and use their first amendment rights to make a difference," Tinker said.
Tinker has been traveling to schools around the country meeting students and promoting student rights. A segment of the slideshow was dedicated to students that are advocating for social change.