Partners in Rhyme: Joony & Max.Freetown
Hang on for a minute...we're trying to find some more stories you might like.
Joony and Max.Freetown are the musical aliases of Jonathan Negero and Christian Farkarlun; local students of the Springbrook community. Jonathan is known for rapping, whereas Christian makes his own beats. Recently, the duo collaborated on an EP release titled, "211 EP". For these guys, music is no mere hobby.
They first met in middle school.
"I met this man, Christian, in 6th grade, this dude ain't know nobody at our school," Joony said.
Before attending a public middle school, Christian was enrolled in a different scholastic background.
"I came straight out of Catholic school. I didn't go to elementary school with these dudes. Through one friend, I pretty much met all my friends. That's how me and Joony linked up." He said.
The origins behind their aliases came from their family upbringing or cultural aspects of their background. According to Joony, people mistook that tag as his real name, but it was his family who coined it.
"My name is Jonathan. My family used to call me that (Joony) at home. I was with a friend of mine and a couple of other people. They heard – I think it was my sister – she called me Joony. My main friends started calling me Joony. Now everybody calls me Joony. People really think that's my real name now. It just stuck," he said.
Christian went by many names before settling with his current one, Max.Freetown.
"My first name was Xen Agha. For a while, I was Xen One for a long time, for about a year. Eventually, I got into Jean-Michel Basquiat. I started to resonate with him a lot, so I changed my name to chris.basquiat."
Christian's decision to go by Max.Freetown was inspired by his efforts to embrace his father's side of the family. The first counterpart of his name; Max, comes from his middle name and his great grandfather's, too.
"Max is my middle name – and my dad – he was like, 'you don't represent the Sierra Leonean part of your family enough' and I was like, all right then, I'll live it. Max is my dad's grandpa's name," he said.
Christian also shed light on the double meaning behind his Freetown counterpart of his title.
"There's two meanings to the Freetown thing," he said.
"Freetown is the capital of Sierra Leone. Then, last year, Blood Orange released this album called Freetown Sound. That was one of my favorite albums of last year. It resonated with me. It made sense. Though I've never been to Freetown – I never been to Africa- at least I'm representing where my father is from now." He concluded.
The occurrence that inspired the duo to put out the 211 EP was from their lack of releasing new material, and not relying on others.
"Neither of us had dropped music in 6 months," Christian said.
"Yeah, in like a brick," Joony chimed in.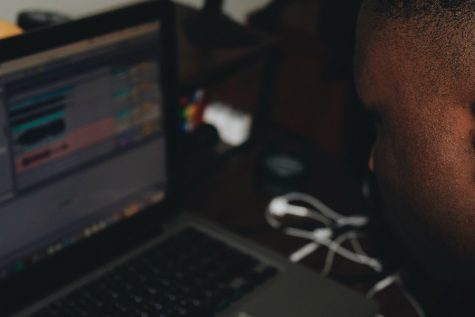 "I was working on a tape with some other engineer, who did not send my stuff, he still has my tracks. So we were like, 'yo, let's just make our own tape, and call it 211' because his apartment number is 211 (Christian's home). So we recorded it here. So we were like, let's just record it and make all the beats in house, so we can make our own music, and not rely on other people," Joony said.
According to the duo, the duration it took to complete the EP was not long. As stated by Christian, the EP took, about a week and a half.
"We kept pushing the date back. It was supposed to come out, I think December 9th. We pushed it back to the 16th, because we weren't finished," he said.
As the production for the project started, the beats were crafted during the duo's sessions.
"These weren't premade," Christian said.
"We were sitting in the room and I was making these beats. He was pitching me ideas for the beats. I didn't just make these beats to throw it at him. We worked on that EP." He assured.
Joony is frank towards Christian terms of his production.
"He is completely honest," Christian says.
"He doesn't hold back. If he's here while I'm making a beat, he is telling me what he does and doesn't like while I'm making it. He doesn't hesitate. He's not a Yes Man," he said.
Joony's experience in recording sessions can be rewarding, but they can be unproductive at times. He says that when his friends come over, it's sometimes difficult to record music.
"When our friends don't come; whenever I record, I get so much stuff done." He explained.
The duo hopes to progress in their respective music careers. For Joony, he hopes to gain accolades as soon as he is in college.
"College is going to be lit," he said.
Christian desires that his start as a producer will evolve into something different.
"My end goal is to be a record label executive.I'm starting a record label. I'm not going to screw artists over," Christian said.