The AOIT Program at Springbrook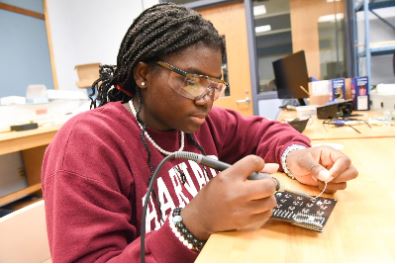 The Academy of Information Technology (AOIT) program at Springbrook is an exceptional program for students at Springbrook. This program has made a great impact on students for about nine years at Springbrook. The AOIT program at Springbrook has reached Distinguished Model Status and is the only school in the county and state to achieve this status. The program has three strands of computer science study: Programming, Networking, and Web Design. Students at Springbrook can take three to four years of technology classes along with a technology internship. 
Students complete this program by doing course work and completing an internship. This program provides internship opportunities at John Hopkins Applied Physics Lab, NSA, NIST, Verizon, and many more. AOIT courses include Computer Programming, Cisco Networking, and Web Design. These opportunities make the AOIT program at Springbrook unique because students are open to so many choices.
You may be wondering how this program can benefit you in the future. Ms. Price told the Blueprint, "The program gives real world skills in programming, web development, and networking. It can also build on in college." Students build their experience with taking courses and internships in AOIT to help them apply what they learn in the future. Ms. Price also tells the Blueprint, "Technology is a field with room for everyone. Technology will always be hiring and every career skill set can be impacted with technology." AOIT could help you find your passion in technology and open career opportunities. 
This career pathway has earned Springbrook many great accomplishments. In addition to receiving the Distinguished Model Status, AOIT will be going to Dallas, Texas to be recognized for it. Additionally, a $5,000 honorarium has been gifted to Springbrook. Along with all these achievements, the most important one is the future success of students after completing the program. 
To anyone who is considering joining the program, Ms. Price says, "Do it. You'll never waste your time learning about technology." Ms. Filipiak adds, "If you are interested in technology join AOIT. But if you don't know which career to follow, AOIT helps you build skills that you'll be able to apply in nearly any career path."