MCPS Plans To Expand IB Magnets, But Concerns Remain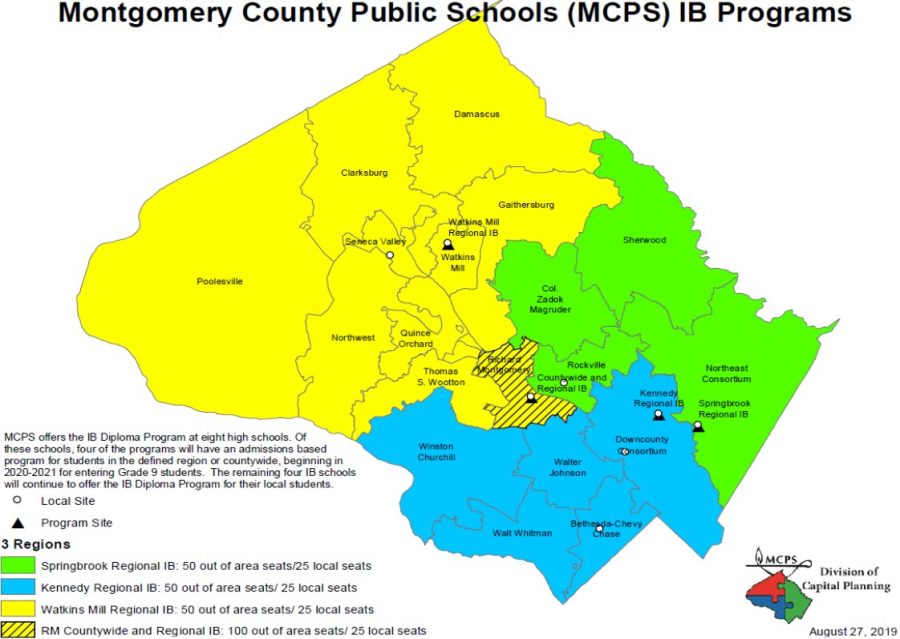 The Montgomery County Board of Education approved a plan September 10 to expand International Baccalaureate programs like Richard Montgomery High School's to three other schools in the county. Richard Montgomery currently has the only county-wide, application-only IB program in the county. Montgomery County Public Schools will create similar magnet programs at three other high schools throughout the county, namely at Springbrook, Kennedy, and Watkins Mill High Schools. This plan has been previously reported, but this is the first comprehensive look at the plan and the concerns around it.
Richard Montgomery's IB program currently houses 125 students, 25 of whom are local students, and creates a special cohort for IB students. Each new regional magnet houses 75 students, 25 of whom are local students, and will feature cohorts.
Superintendent Jack Smith wrote in a memorandum to the Board that the plan expands "access to enriched and accelerated instruction and ensure[s] systematic access to high-demand high school programs that prepare students for college and careers."
The magnets select students based on a multitude of factors, including students' scores on the Cognitive Abilities Test, better known as CogAT, students' grades, socio-economic background, and gender.
Concern about lack of regionalization for Richard Montgomery
The plan does not regionalize Richard Montgomery, meaning that it can still draw students from all over the county, while the other three magnets can only draw from certain schools. 
Facing criticism, MCPS justified the plan by saying it would only keep Richard Montgomery as a county-wide program until the effectiveness of the regional magnets is proven. It pointed out that the school will not stay county-wide permanently, but was not able to provide a date for regionalization. The school system said it will determine the success of the program based on factors including enrollment numbers, participation and performance on IB exams, as well as the number of diplomas earned.
"I feel like they're missing the point," Springbrook senior Michael Solomon said of MCPS's justification in a phone interview (Solomon is Editor-in-Chief of the Blueprint).  Solomon was the president of MoCo for Change, a student activist organization, last year. He said he is concerned that the plan puts Richard Montgomery on a pedestal and diminishes the regional magnets. Citing MCPS's equity efforts, Solomon called it "counterproductive" not to regionalize Richard Montgomery.
One MCPS official involved in the rollout of the plan at one of the future magnets said they would have preferred all magnet programs to be regional sites. The official, who requested anonymity in order to speak frankly, said MCPS did not regionalize Richard Montgomery because of political considerations, fearing a backlash. The official was not involved in the crafting of the plan.
MCPS spokesman Derek Turner reiterated in an email in response to the official that Richard Montgomery would only stay county-wide temporarily and the plan allows MCPS to observe the magnets while they develop. 
Richard Montgomery parent Rodney Peele testified in front of the Board four times about the plan, warning the Board not to regionalize the school before the other magnets are proven successful. He was wary of endorsing MCPS's plan for the regionalization of Richard Montgomery in a phone interview, citing past experiences with MCPS program rollouts.
A two-tiered process?
Some parents at a Springbrook PTSA meeting in September expressed concern that because Richard Montgomery remains county-wide, a two-tiered selection process would be created, with Richard Montgomery picking off the top students.
John Weinshel, the Middle Years Programme coordinator at Springbrook High School, said he "truly" believes this will not happen. He pointed out that there will be three groups of students who apply to the magnets: One group applies only to Richard Montgomery, one applies only to their regional magnet, and the last group applies to both magnets.
But the official who requested anonymity voiced concerns about the process. They said MCPS would have to the process exactly right in order to prevent a two-tiered process. They further voiced concerns about the selection process. 
"At some point, the selection process becomes arbitrary," the official, who used to be a magnet coordinator, said. Since many of the students in the applicant pool are similar in terms of academic performance, they said, decision makers "try to find ways" to pair the students down. MCPS did not respond to requests for comment about this concern. 
Communication concern
Another area of concern for some was MCPS's communication to parents, students, and teachers. Elizabeth Rogovoy, who coordinates Advanced Placement and IB classes for MCPS, said in a phone interview that MCPS plans to communicate with parents and students by attending open houses for the regional magnets. 
Yet Rodney Peele, the Richard Montgomery parent, said he had the impression that all three groups do not have a complete understanding of the plan. 
Jeffrey Peang-Meth, a history teacher at Springbrook High School, said he has not seen much communication about the plan. He was not aware of most details of the plan when this reporter described it to him. The last official communication teachers received about the plan was from last year, he said, adding that he hears rumors and gets information from unofficial sources.
"No one has enough information to have strong judgements either way," Peang-Meth said.
Parents at the September PTSA meeting also seemed not to have heard of the plan, asking many questions of members of Springbrook's administration.
MCPS did not respond to requests for comment about the alleged lack of communication.
Both Weinshel, the MYP coordinator at Springbrook, and Amanda Trivers, the IB coordinator at Springbrook, said that it was too early to expect comprehensive communication about the plan.
"I don't expect super clarity, at least right now, about a process they've never done before," Weinshel said.
Debate over à la carte IB classes
The plan will still allow students to take IB classes without being in the IB Diploma Programme. Peele, the Richard Montgomery parent, criticized this approach. He said IB classes should only be open to students who participate in the full IB Diploma Programme, arguing that IB is supposed to be a comprehensive program.
Solomon, the Springbrook student, disagreed with Peele. He said he has seen IB classes provide opportunities for "dedicated students" not pursuing the Diploma that otherwise would not have gotten credit for classes.
Colleen O'Brien, the marketing manager at IB's Global Center in Bethesda, MD, said via email that this is part of a long-standing debate. As late as 2012, O'Brien said, IB required students taking IB classes to participate in the IB Diploma Programme. From 2014 on, schools could offer IB classes to students not participating in the Diploma Programme.
O'Brien said while "the greatest benefits" of IB are realized when working towards an IB diploma, it is still valuable to take even one IB class.
"The IB is committed to making an IB education as accessible to as many students as possible," O'Brien said.