Justice Law and Society classes go to Congress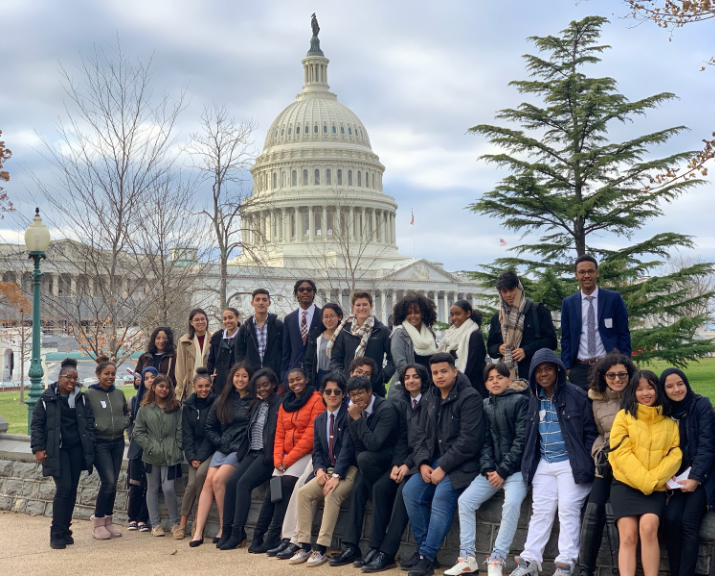 by Khine Cho, Staff Writer
December 13, 2018
On November 27, the Justice, Law, and Society and Law and Justice programs went on a field trip to visit congress. During their visit, they met U.S. House of Representative Jamie Raskin (MD-08) at his Cannon House Office Building. Representative-elect Alexandria Ocasio-Cortez, the rising star from New York who famously won the Democratic primary in New York's 14th congressional district in June. Raskin, a former Maryland State Senator, has a long history with Montgomery County Public Schools. He first made a name for himself in 1997 when he defended the 1st Amendment Blair Network Communications (BNC) after the Board of Education Censored a 1996 episode of "Shades of Grey" which sparked a debate on same-sex marriage. 
Springbrook High School is the only high school in the Northeast Consortium to host the Justice, Law, and Society (JLS) and Law and Justice (LAJ) programs; one of four Montgomery County schools . Led by Mr. James Farrow and Mrs. Jennifer Laskin, the programs offer students interested in pursuing law related careers such as law enforcement, homeland security, law, and forensics an introductory course with hands-on experience.
The program is only available at Springbrook, Montgomery Blair, Rockville, and Northwood. Continuations of the program at local post-secondary institutions are available at the University of Maryland, American University, Towson University, Frostburg University Georgetown University University of Maryland University College.
Springbrook's law program also offers students a pipeline through which they can access law firms and provides countless opportunities for law-related internships. What makes the Springbrook law programs so different from the school's other signature programs is the emphasis on the physical application of the concepts learned in the JLS and LAJ classes. 
"Being in Congress was an amazing experience for Springbrook's law program and our students," Ms. Laskin said, "Congressman Raskin's staff was so nice to the students and made sure the entire visit ran smoothly."
Students got to visit the floor of the House of Representatives and were able to see the inside of a congressional office  building.
Correction: This article was updated on January 3, 2019. Students who earn a B or higher will not earn 3 credits towards community college.