BSU seeks to make community impact
"[Our] goal is to promote unity among black students. I find that in our community, there is a lot of disunity – we build strongly on our differences. If we instead worked towards a common goal, our difference could be smaller, and what binds us together could be stronger," said Mrs. Muhammad, an English teacher at Springbrook high school, and the sponsor of the Black Student Union.
The Black Student Union (BSU) is an extracurricular club offered at Springbrook that focuses on promoting unity, awareness, respect, and a school-wide spirit of activism within the community. The club was first started in 2015, but gradually fell apart. It was restarted this year by Mrs. Muhammad,  and has since grown to almost 30 members. When it comes to leadership, Muhammad takes "more of a guided approach, instead of letting the students do what they want to do, guide them in a direction in which they should go and leave it up to them to make better decisions." 
An organization with deep roots in American civil rights history, the first ever Black Student Union was founded in 1968 at the University of Washington. In its origins, the BSU led a "militant" struggle for black rights at the university – a seemingly isolated fight that grew to almost every major academic institution in the country. At Springbrook, a predominantly minority school, Mrs. Muhammad says the purpose of the club is quite different.
"I think we can be that organization where people say 'hey, we want that for our affinity group,' whether it's women, whether it's [a] Hispanic group, whether it's an Asian group, whether it's a Muslim group, a Christian group… they can look at us and say 'They found common ground despite their differences, we want to do what they're able to do," Muhammad said.
Folly Kouevi, a junior at Springbrook and a member of the BSU, said he joined the club in hopes of finding a place where he felt welcome and comfortable with his identity.
"When I went to Gaithersburg high school, there wasn't a large population of black students, so I didn't really have a place for me to join in and try to help my community. When I transfered [to Springbrook] I heard of the opportunity and I immediately joined," Kouevi said.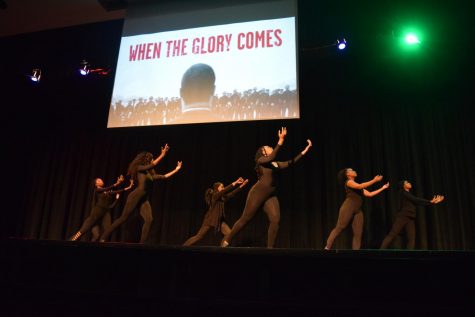 In its relatively young existence at Springbrook, the BSU has been able to coordinate major school-wide events – most notably, the Black History Month Assembly, one of last year's most memorable events. For this year's Black History Month, the club plans on having an award show style production, where "the students would be honoring Black liberators and freedom fighters for their journey. There will be a lot of performances, a gospel production, and a tribute to Beyonce."
Last week, the BSU held a writing workshop open to all Springbrook students, where BSU members and standout English students offered assistance and tips on writing. The BSU is also hosting a forum this week with Springbrook teachers who went to a Historically Black College or University (HBCU), as well as former Springbrook students who currently attend an HBCU.