Opinion: A Jew in America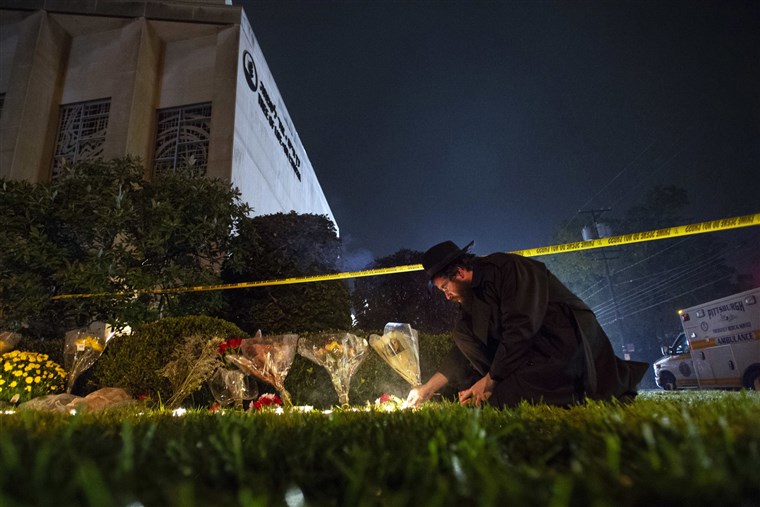 Until recently, I thought anti-semitism a thing of the past. It was bubbling up in Europe, sure, but not in America. It could never happen in America. America is too diverse and open-minded a place to house anti-semitism, I thought.
Even the events in Charlottesville didn't change my mind. Sure, there were a few grumpy men who were frustrated over not having any meaningful relationships, but they couldn't possibly account for the majority of Americans.
However, Americans woke up with a shock on October 27th to news out of Pittsburgh, Pennsylvania: A gunman had gunned down 11 people at the Tree of Life Synagogue. He had apparently posted about his hate for immigrants and Jews on Gab, a favorite virtual gathering place for Neo-Nazis.
"HIAS likes to bring invaders in that kill our people. I can't sit by and watch my people get slaughtered. Screw your optics, I'm going in," he said, referring to the Hebrew Immigrant Aid Society, which was founded to help Jewish refugees in 1881, and since has diversified to helping all refugees.
This tragedy occurred during a week of political violence, with pipe bombs being sent by a Trump supporter to outspoken critics of the President, including George Soros and Hillary Clinton. 
The shooting caused me to reflect on my naive assumption that America was a place free of anti-semitism. Was it really? I sought out information on anti-semitism. I came across an incredibly enlightening episode of The Daily, a podcast from The New York Times. In an episode called "The Re-emergence of American Anti-Semitism," host Michael Barbaro interviews Jonathan Weissman, the deputy Washington editor of The New York Times. Weissman says that this show of anti-semitism is not new, and has in fact been perpetrated by the president.
Even some of my fellow Jews have distributed a popular counter-argument: He has a Jewish daughter and grandkids, how could he possibly be anti-semitic? This excuse is as old as time itself, and it's no better than playing the "I voted for Obama" card.
Some of my fellow Jews also point to Trump's support of Israel as evidence of his decency towards Jews. To this I respond that anti-semitism and support of Israel are not mutually exclusive: Just because you have a Jewish friend, doesn't mean that you can't be anti-semitic.
The fact of the matter is that Mr. Weissman is right. The president and his goons do traffic in anti-semitic theories. President Trump, for his part, has denounced anti-semitism. This doesn't change the fact that he, at the very least tolerates it, if not outright spews anti-semitism.
One of Donald Trump's sons, Donald Trump Jr. has shown an affinity for Neo-Nazis on Twitter, where he frequently retweets them, such as when he retweeted a meme including Pepe the Frog, a character frequently used by the alt-right.
President Trump even tweeted a picture of the Star of David looming over Hillary Clinton's head.
Several pro-Trump ads that have run on TV seem to have a deeper, more anti-semitic message. The most prominent of the anti-semitic motifs in these ads include George Soros, a prominent liberal donor who, as it happens, is a Jewish Holocaust survivor. In an ad run by the NRCC (National Republican Campaign Committee), for example, George Soros is shown sitting in front of a pile of money, eyeing it very carefully. This plays into the perception that anti-semites have that Jews are stingy and greedy, that they control the world, that they're the puppet masters who control the world's economy, that they control the economy in order to enrich themselves and their people.
President Trump himself has participated in the distribution of the George Soros conspiracy theories. Take, for example, this exchange with a reporter that Aaron Rupar documented on Twitter.
REPORTER: Do think somebody is funding the caravan?
TRUMP: "I wouldn't be surprised, yeah. I wouldn't be surprised."
REPORTER: George Soros?
TRUMP: "I don't know who, but I wouldn't be surprised. A lot of people say yes."
Wow. "A lot of people say yes."
This tepid response to an infuriating deed has become commonplace in the Trump administation. It happened with Charlottesville in 2017: "We condemn in the strongest most possible terms this egregious display of hatred, bigotry and violence on many sides. On many sides," President Trump said in reaction to the events in Charlottesville, where a neo-Nazi plowed his car into a crowd of peaceful protestors, killing one person. Her name was Heather Heyer.
"Moderate" Republicans, as Samantha Bee points out, also distribute the coded anti-semitism. For example, Chuck Grassley, the chairman of the Senate Judiciary Committee, when asked whether he thought George Soros, in light of the Kavanaugh protests, "is behind all of this, paying these people to get you and your colleagues in elevators or wherever they can get in your face," he responded, "I have heard so many people believe that. I tend to believe that."
President Trump seems to have activated an underlying anti-semitic nerve lying in many Americans. The Anti-Defamation League, which fights against anti-semitism, found that anti-semitic incidents rose almost 60% from 2016 to 2017.  According to the ADL, the huge spike in incidents was partly due to "a significant increase in incidents in schools and on college campuses, which nearly doubled for the second year in a row." The ADL also states that "Anti-Semitic incidents in K-12 schools increased by approximately 100% each year for the past two years. Instances of vandalism with anti-Semitic messages and symbols, as well as harassment and assaults against Jewish children, increased 94% in 2017 over the previous year."
Republicans may not have been directly advocating for violence against Jews, but they sure as hell did nothing to stop it. The fact of the matter is that President Trump has whipped up a mob of anti-semitic, xenophobic, sexist, homophobic, you-name-it mob of people. Anyone who still supports him should be grouped into this category. I don't buy the argument that some hang on to President Trump for economic reasons. The economy was already doing well under President Obama. Whether or not they or anyone else wants to admit it, there's a layer of hatred in every current Trump supporter.
This worries me greatly, and should worry every rational person.