Cleveland Browns Finish 0-16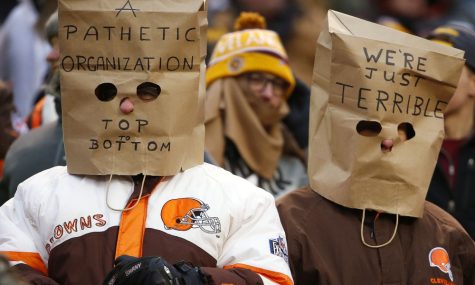 photo by Fox Sports

It was 4 & 2, Cleveland had one more chance to avoid embarrassment of a winless season. DeShone Kizer dropped back, almost got sacked, ran to his left, threw the ball to a wide open Corey Coleman.
Who dropped it?
That play summed up the Browns entire season. They always had chances to win a game, but somehow find a way to blow it away. Like when the Browns led 21-7 against the Packers in week 13 and unbelievably gave up 14 unanswered points to take the game into overtime where Kizer launched the ball into the air where the Packers picked it off. Packers scored a touchdown after that to win the game.
Not to mention the game against Tennessee that also went into overtime but the Browns typically choked at the most important time in the game and let the Titans win the ball with a field goal. Or in Detroit where Cleveland had the lead twice in that game and still lost.
And last year against Pittsburgh where the Browns were at Steeler's 2-yard line in overtime and still ended up losing.
The Browns lost in so many close games we expected them to win at least one of them, however one reason the Browns failed to win one game was turnovers. The Browns led the whole league with the most turnovers which is 41. DeShone Kizer led the league in interceptions with 22 picks thrown. It's quite surprising to see a team turn the ball over more times than touchdowns they've scored(27).
And there is the second reason why the Browns have a winless record. Offense.
The Cleveland Browns are dead last in the league in scoring. Scoring an average of 14.6 points per game. Their defense also allowed 410 points, 2nd most points allowed in the 2017 season, meaning there were problems on both sides of the football for Cleveland. But let's talk about offense more. They scored above 20 points just 4 times the whole season, which is worse than what they did last year where they scored 20+ points 7 times. Even starting 3 different quarterbacks didn't help them at all, which isn't much of a surprise since the quarterback position has been an issue for Cleveland ever since they came back in 1999.
In the 2016, when the Browns went 1-15, Head Coach Hue Jackson promised himself if the Browns went 1-15 again next year he would swim in a lake. Well, he went 0-16 after he said that though he will still fulfill his promise and jump into Lake Erie.
Pretty much everyone thought the Browns would fire Hue Jackson after this season, but surprisingly they didn't. Despite being 1-31 as a Browns Coach(which is arguably the worst coaching record in NFL history) he will stay and will be present for Cleveland in 2018. Apparently it's because he provides motivation and confidence to his players. Though that may be true it's definitely not helping them win games.
What's even worse for the Cleveland Browns is that the Buffalo Bills ended their playoff drought that started in 1999. It was the longest playoff drought in the NFL. Now that the 18-year streak ended, guess who has the longest active playoff drought now?
Yup Cleveland. Talk about insult to injury.
On the bright side, the Browns fans held their 0-16 parade. The team has had lots of  "Brown" moments ever since they were repurchased in 1999. There were tombstones listing all of the Browns' quarterbacks since 1999. There were many 0-16 parade floats, several jokes, funny clothing, and Santa who did more this year than the Browns did even though he works just once a year.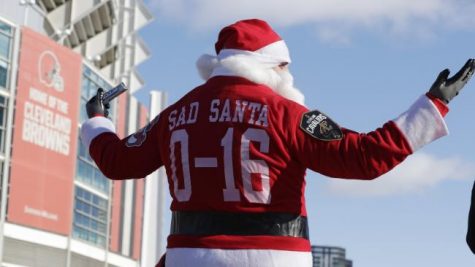 photo by Fox Sports
It's sad enough to be worse than an 1-15 team but Cleveland is keeping Hue Jackson. They also need a quarterback and the front office is still clueless. I just like to see the Browns be successfully for once. I'm tired of seeing how depressing it is in Cleveland. Let's just see how they do next year.