King James losing control? LeBron's first NBA ejection
LeBron James, a 3x NBA champion, 4x season MVP, Olympic gold medalist, and starting Cleveland Cavaliers forward is arguably one of the greatest all-around basketball players of all time. With a stellar 14 seasons under his belt, this seasoned veteran has always been able to control his emotions on the court, and has never received any suspensions or serious penalties throughout his career.
However, after a Tuesday night's win over the Miami Heat, an unprecedented situation seemed to arise out of thin air. The power forward from Akron, Ohio made a strong cut into the paint for a tough layup in the third quarter. While going up, Lebron seemed to believe he was hit and was convinced that he had been fouled. After missing the shot and not getting a call from the officials LeBron went straight to the referee and tried to argue for the call. James then proceeded to flail his arm in the air, in a motion that was interpreted to be violent according to the official.
After LeBron's "colorful" display of frustration, the official immediately gave James an ejection without hesitation and threw him out of the game. LeBron had not made physical contact with the referee, but he did approach the official in a somewhat aggressive and disrespectful manner.
This was LeBron's first ejection in his 14 season career. Subsequently, after the game, James was interviewed about the incident. When asked about what caused the ejection, LeBron replied, "I said what I had to say and then I moved on, but [the referee] decided I should get [ejected]."
The other perspective of the story, however, is a bit more confusing. According to the official, LeBron "turned and threw an air punch directly at [him], and then he aggressively charged at [him], and then he used vulgarity in [his] ear a few times," said Kane Fitzgerald.
In all his previous 1081 career games, LeBron James has never been ejected from an NBA game. Many fans and analysts have argued that the ejection was an overreaction by the ref. Others disagree. Some fans also compare James's reaction to another NBA player, Draymond Green.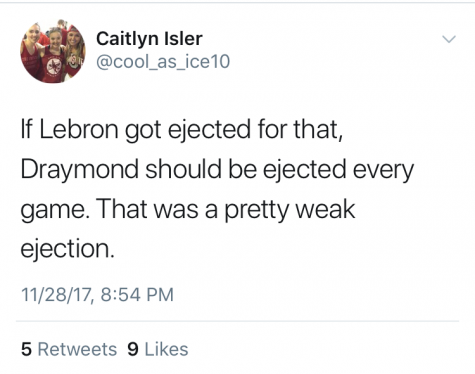 photo by Twitter
Also on Twitter, fellow NBA player Enes Kanter made fun of the situation, dubbing the referee as the "King of Cleveland".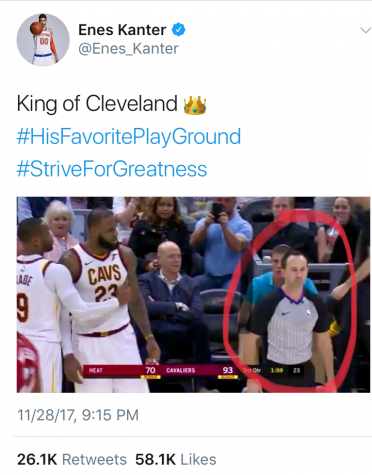 The entire situation was obviously troubling for James, the Cavaliers, Fitzgerald, and even the NBA as a whole. Despite losing their best player, the Cleveland Cavaliers ended up beating the Miami Heat 108-97.